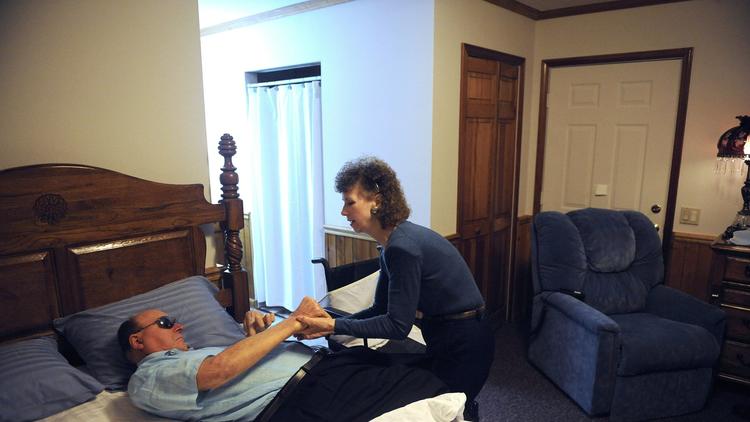 By Lauran Neergaard and Jennifer Agiesta – Associated Press | May 19, 2014
WASHINGTON (AP) — You promise "in sickness and in health," but a new poll shows becoming a caregiver to a frail spouse causes more stress than having to care for mom, dad or even the in-laws.
Americans 40 and older say they count on their families to care for them as they age, with good reason: Half of them already have been caregivers to relatives or friends, the poll found.
But neither the graying population nor the loved ones who expect to help them are doing much planning for long-term care. In fact, people are far more likely to disclose their funeral plans to friends and family than reveal their preferences for assistance with day-to-day living as they get older, according to the poll by The Associated Press-NORC Center for Public Affairs Research.
And while 8 in 10 people who've been caregivers called it a positive experience, it's also incredibly difficult.
"Your relationship changes. Life as you know it becomes different," said Raymond Collins, 62, of Houston, who retired early in part to spend time with his wife, Karen. Diagnosed with multiple sclerosis 15 years ago, her mobility has deteriorated enough that she now uses a wheelchair.
Collins, a former business manager for an oil company, said he has felt stress, frustration and, at times, anger.
"The traditional vows are through sickness and health, for richer or poorer, for better or worse, etc.," he said. "At the age of 25 and 32, you say those things and you're high on love and healthy, and life is all in front of you. The meanings of those words are pretty much lost, even when you concentrate on them."
Still, he said caregiving has strengthened his marriage commitment in ways he couldn't foresee as a newlywed nearly 37 years ago.
While 7 in 10 who cared for a spouse said their relationship grew stronger as a result, nearly two-thirds said it caused stress in their family compared with about half among those who cared for a parent.
Caregiving may start with driving a loved one to the doctor or helping with household chores, but progress to hands-on care, such as bathing. Increasingly, family members are handling tasks once left to nurses, such as the care of open wounds or injections of medication.
With a rapidly aging population, more families will face those responsibilities: Government figures show nearly 7 in 10 Americans will need long-term care at some point after they reach age 65. Yet just 20 percent of those surveyed think it is likely they will need such care someday. Almost twice as many, 39 percent, are deeply concerned about burdening their families.
Contrary to popular belief, Medicare doesn't pay for the most common types of long-term care — and last year, a bipartisan commission appointed by Congress couldn't agree on how to finance those services, either. But the AP-NORC Center poll found nearly 6 in 10 Americans 40 and older support some type of government-administered long-term care insurance program, a 7-point increase from last year's AP survey.
The poll also found broad support for a range of policy proposals:
More than three-fourths favor tax breaks to encourage saving for long-term care or for purchasing long-term care insurance. Only a third favor a requirement to purchase such coverage.
Some 8 in 10 want more access to community services that help the elderly live independently.
More than 70 percent support respite care programs for family caregivers and letting people take time off work or adjust their schedules to accommodate caregiving.
Two-thirds want a caregiver designated on their loved one's medical charts who must be included in all discussions about care.
Oklahoma this month became the first state to pass the AARP-pushed Caregiver Advice, Record and Enable (CARE) Act that requires hospitals to notify a family caregiver when a loved one is being discharged and to help prepare that caregiver for nursing the patient at home.
Just 30 percent in this age group who say they'll likely care for a loved one in the next five years feel prepared to do so.
Women tend to live longer than men and consequently most family caregivers, 41 percent, assist a mother. Seventeen percent have cared for a father, and 14 percent have cared for a spouse or partner, the poll found.
The tug on the sandwich generation — middle-aged people caring for both children and older parents, often while holding down a job — has been well-documented, and the new poll found half of all caregivers report the experience caused stress in the family.
But spouses were most likely to report that stress and to say caregiving weakened their relationship with their partner and burdened their finances.
Spouses are more likely to handle complex care tasks, on duty 24-7 with less help from family and friends, said Lynn Feinberg, a caregiving specialist at AARP.
Physically, that can be harder because spouse caregivers tend to be older: In the AP-NORC poll, the average age of spouse caregivers was 67, compared with 58 for people who've cared for a parent.
Virginia Brumley, 79, of Richmond, Indiana, cared for her husband, Jim, for nearly five years while he suffered dementia and Parkinson's syndrome, care that eventually required feeding, dressing and diapering him.
"I think I loved him more after I started caring for him. I saw what a wonderful person he was: his (positive) attitude, his kindness, his acceptance of things," she said.
But he lived his last 11 months in a nursing home because "I couldn't handle him anymore," Brumley said. "He was too big for me. He was as helpless as a baby."
The AP-NORC Center survey was conducted by telephone March 13 to April 23 among a random national sample of 1,419 adults age 40 or older, with funding from the SCAN Foundation. Results for the full survey have a margin of sampling error of plus or minus 3.6 percentage points.
___
Associated Press writer Stacy A. Anderson and News Survey Specialist Dennis Junius contributed to this report.
EDITOR'S NOTE _ Aging America is a joint AP-APME project examining the aging of the baby boomers.