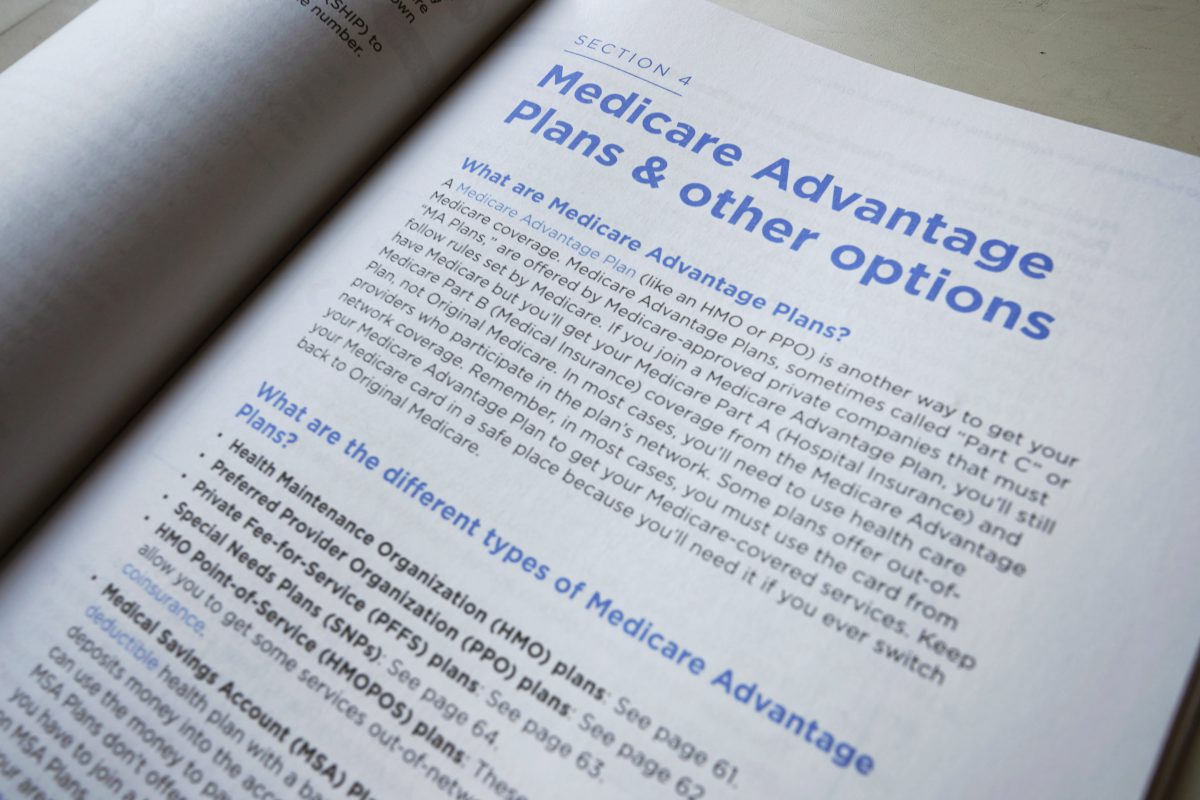 September 12, 2022
About half of adults in America think Medicare and Medicaid should play large roles in paying for ongoing living assistance for older adults, along with private insurers. And majorities of Democrats and Republicans favor policies to help Americans prepare for the costs of providing and receiving long-term care, according to a study from The Associated Press-NORC Center for Public Affairs Research.
There is bipartisan support for a host of policies to help pay for the costs of long-term care and caregiving, many of which would involve an expanded role for the federal government. Seventy-five percent of U.S. adults overall favor long-term care coverage through Medicare Advantage or supplemental insurance, and about two-thirds support a government-administered long-term care insurance program, government funding for low-income people to receive long-term care in their homes, or Social Security earnings credit for providing care to a loved one.
Tax breaks for purchasing long-term care insurance and for providing care to a family member also enjoy support from about two-thirds of the public.
Some of these policies have more support among those age 50 and older, but majorities of those age 18-49 are also in favor of them. These differences by age are seen among adults overall and within racial and ethnic groups.
Expanding Medicare coverage of certain services is also popular across age groups, racial and ethnic groups, and party identification. More than 8 in 10 adults think Medicare coverage should be expanded to cover dental care (87%), eye examinations for prescription glasses (87%), hearing aids (86%), and long-term care (81%).
Public satisfaction with the current state of health care—overall and for older adults—is quite low. Just 12% of adults think health care in general is handled very or extremely well in the United States, and few think health care for older adults, community support and resources for older adults, and the quality of care at nursing homes are handled well.
Overall, 66% of adults think it is the federal government's responsibility to make sure all Americans have health insurance coverage. Those age 18-49 are more likely to say so than those age 50 and older (73% vs. 58%). While those age 50 and older are more supportive of government policies to address the costs of care for older adults, younger adults are more supportive of a single-payer health care system for all Americans (47% vs. 38%).
The survey finds that white adults express more negative attitudes than Black or Hispanic adults about how the United States handles health care generally, the costs of prescription medication, and mental health care. On the other hand, Black and Hispanic adults express more concern than white adults about personally having access to high-quality health care when they need it (58% and 56% vs. 44%, respectively).
Women also express more concerns than men about accessing quality health care (53% vs. 42%).
Adults are broadly supportive of the government providing support for care during the COVID-19 pandemic. About two-thirds feel that the federal government's investments to make COVID-19 testing, vaccines and boosters, and treatment cheaper for individuals were good things. Older adults and Democrats are especially appreciative of these efforts, though younger adults and Republicans are also generally supportive.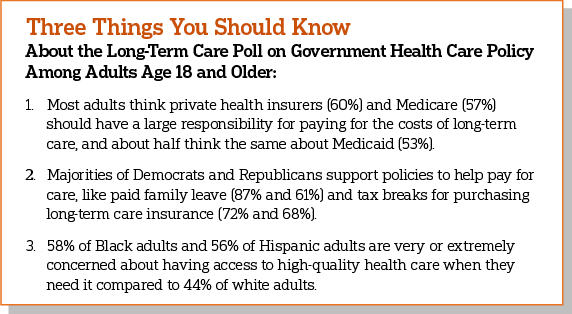 The AP-NORC Center conducted this study with funding from The SCAN Foundation. The survey includes 1,505 interviews with a nationally representative sample of adults in America using the AmeriSpeak Panel®, the probability-based panel of NORC at the University of Chicago. Interviews were conducted between July 28 and August 1, 2022, via web and phone in English and Spanish. The margin of sampling error is +/- 3.6 percentage points.
Suggested Citation: The AP-NORC Center for Public Affairs Research. (September, 2022). "Support for Greater Government Role in Health Care for Older Adults" [https://www.longtermcarepoll.org/project/support-for-greater-government-role-in-health-care-for-older-adults/]