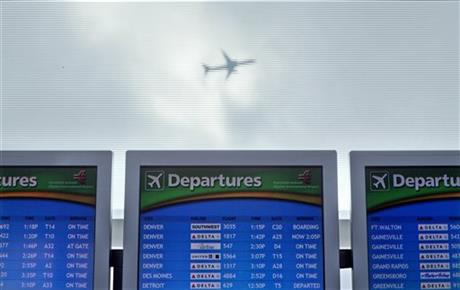 By Alejandra Cancino – Associated Press | Wed, December 16, 2015
CHICAGO (AP) — Nancy Powers had to adjust her travel routine when her best friend and travel partner, Phyllis Wesley, was diagnosed with a degenerative brain condition that affects her speech and comprehension.
Juggling bags and leaving her 61-year-old friend alone even for a second became too worrisome. Packing too much into a day became problematic.
"I've had to learn how to pace her and how to pace myself," said Powers, 63, of Montgomery, Alabama.
Caregivers face an assortment of challenges when traveling with a frail relative, friend or someone with dementia. Packing medications, getting to and from the airport and managing schedules and family activities all can be difficult.
Every person reacts differently to stress, and it's impossible to suggest one-size-fits-all tips, but in general, experts suggest scheduling a doctor visit before the trip and emphasize patience and planning as key elements of traveling. Caregivers say carrying snacks, trying to maintain a routine and carrying music and games are also all helpful when traveling.
Sheri Yarbrough, 54, said her 88-year-old mother, Muriel Yarbrough, has dementia and wants to eat every two hours or so. If she doesn't eat, Yarborough said her mother gets quiet and upset. "She's always been a grazer," Yarbrough said, adding, "It's easier to intervene than to make the behavior stop."
Experts say it's important to try to keep to the dementia patient's routine. So, on a recent trip from their home in Chicago to California, Yarborough packed instant oatmeal, milk in 3-ounce containers and a large cup to mix the two. She also brought along frozen yogurt to help keep the milk cold and turkey-and-cheese roll-ups.
Most experts suggest nonstop flights when traveling with someone with dementia, but Yarbrough knows that her mother can't sit for more than two-and-a-half hours. So she made sure there was a stop in Denver, where they were able to walk around the terminal, greeting children and adults alike.
John Schall, chief executive of Caregiver Action Network, suggests that caregivers stay physically close to a person with dementia. If grandpa is grabbing to your arm for support, let him take it, Schall said. He'll be less likely to become confused and agitated. It also helps to pack puzzles for entertainment and familiar objects, such as a blanket, that you can point to in order to remind him that he's safe.
"There are always going to be circumstances, glitches and meltdowns and that will pass," Schall said. "Roll with the roller coaster. It will not last long."
If your loved one is getting increasingly anxious, and you feel your anxiety rising, experts suggest focusing on breathing. Try talking slowly and calmly as you look for a quiet place or a chair.
"Don't feed into the stress," said Lauren Dowden, a social worker at Northwestern Medicine's Cognitive Neurology and Alzheimer's Disease Center.
Cheryl Levin Folio and her husband, Michael, who has early onset Alzheimer's disease, travel often from Highland Park, Illinois, to their second home in Florida and to visit family.
She has a chalkboard in both homes, where she writes the date, the day of the week and the itinerary for the day. And both homes have similar photographs, to help him acclimate.
At the airport, Levin Folio, 55, said she makes sure to hold her husband's identification card, money clip, water and cell phone as they are going through the TSA process. That way, when he starts worrying that someone robbed him, she can remind him that she has those items.
"I have several money clips and wallets so that when you lose one, you don't sweat it," Levin Folio said.
She also tries to be among the first to board a flight. Otherwise, her husband, 59, starts to feel claustrophobic. After finding their seats, she helps him with the headphones and puts on music to calm him down. She recently bought an adapter so that they can plug two headphones on the iPad and watch movies together.
The idea, said Folio, is not to baby her husband, but to empower him by creating solutions for his limitations. "I can be his wingman," she said.
___
EDITOR'S NOTE — Alejandra Cancino is studying health care and long-term care issues as part of a 10-month fellowship at the AP-NORC Center for Public Affairs Research, which joins NORC's independent research and AP journalism. The fellowship is funded by The SCAN Foundation.