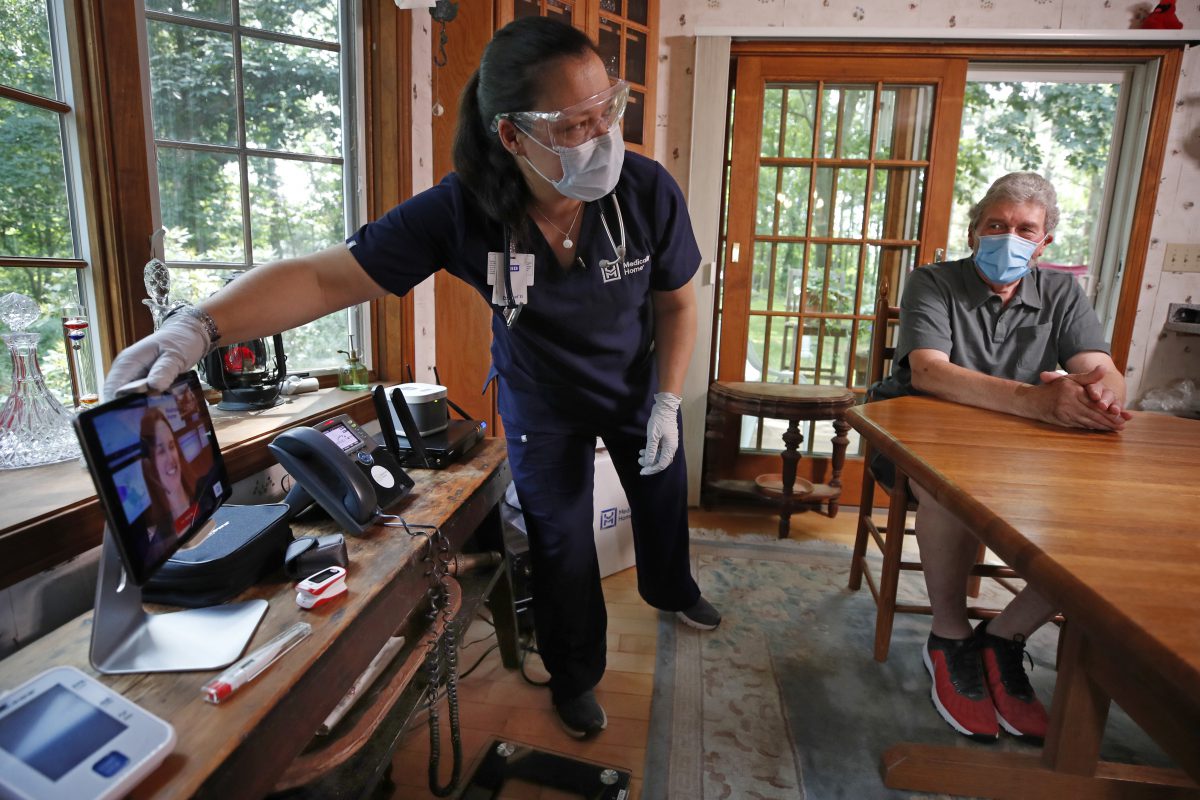 October 13, 2020
The outbreak of COVID-19 has affected the lives of many Americans, with those providing ongoing living assistance to an aging family member or friend being acutely impacted, according to a new study from The Associated Press-NORC Center for Public Affairs Research. Yet, the pandemic has not led to any heightened awareness when it comes to preparations for growing older or providing care to an aging loved one.
The study reveals a disconnect between the lived experiences of caregivers during the COVID-19 outbreak and the expectations about future care among those not currently receiving or providing it. The pandemic has forced family caregivers to cancel their in-home care and make new arrangements, drawn people young and old into the role of caregiver for the first time, and left many feeling stressed and financially strapped. But compared to 2018, those Americans who are not already a caregiver are even less likely to think a loved one will need care in the near future, and 72% have done little to no planning for their own care needs.
Nearly 1 in 5 Americans are currently providing ongoing living assistance to a family member or friend, and for 36% of caregivers, their caregiving responsibilities have increased because of the pandemic. Those age 18-39 in particular are taking on greater responsibilities because of the pandemic—21% of these younger caregivers started providing care during the outbreak, and the share who provide more than 10 hours of care a week has increased since 2018.
Most new caregivers—those who began providing care since the COVID-19 outbreak began—started doing so for reasons related to the virus, including that restrictions made their loved one less able to care for themselves, that their previous care situation seemed unsafe, or that their previous caregiver contracted COVID-19.
The pandemic has forced many to adapt to new realities in order to stay safe. America's caregivers are now relying on meal and grocery delivery, video chat technology, "senior-only" hours at stores, and transportation services to help care for their loved ones. Telehealth has also become prevalent, with three-quarters of caregivers using it to get professional health care for their loved one.
Americans' attitudes about who should pay for care have also evolved. Compared to 2018, more now think health insurance companies, Medicare, and Medicaid should have a large responsibility in paying for ongoing living assistance in this country, and fewer think individuals and families should bear that burden.
Overall, 47% of American adults have experience with ongoing living assistance, including 17% who are currently family caregivers, but few of those not currently providing or receiving care expect they or a loved one will need it in the future. As a result, few are planning the future. Less than a third have done even a moderate amount of planning, and similar numbers have taken actions like discussing their preferences for care with family or set aside money for care. These rates are similar to 2018, indicating that not even the COVID-19 outbreak has spurred Americans to action.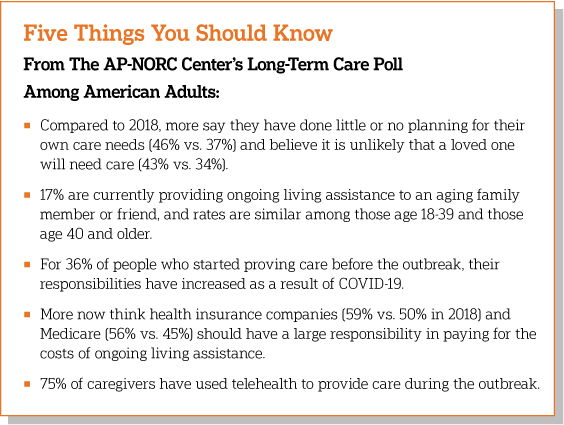 The AP-NORC Center conducted this study with funding from The SCAN Foundation. The survey includes 1,893 interviews with a nationally representative sample of Americans, including 565 current caregivers, using the AmeriSpeak Panel®, the probability-based panel of NORC at the University of Chicago. Interviews were conducted between August 27 and September 14, 2020 via web and phone in English and Spanish. The margin of sampling error is +/- 3.0 percentage points.
Suggested Citation: AP-NORC Center for Public Affairs Research. (October, 2020). "Growing Older in America: Aging and Family Caregiving during COVID-19." [apnorc.org/growing-older-in-america-aging-and-family-caregiving-during-covid-19]