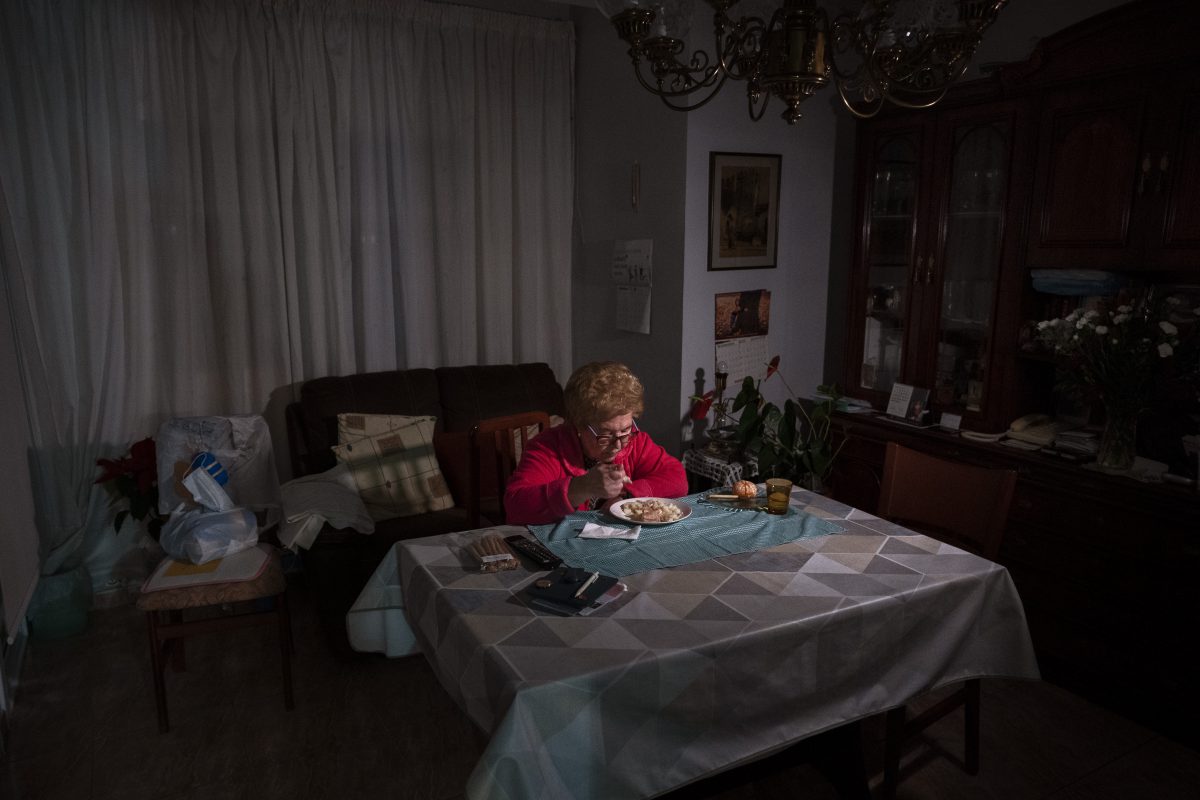 September 29, 2021
With COVID-19 case counts remaining high in much of the United States, many adults age 50 and older remain worried about infection. These people are more likely to practice social distancing and to feel socially isolated, according to a new survey by The Associated Press-NORC Center for Public Affairs Research.
Overall, majorities of adults age 50 and older rate their quality of life, mental health, and satisfaction with social activities and relationships positively. They also rarely or never feel that they lack companionship or feel isolated. Still, 18 months into the pandemic, 1 in 3 feels socially isolated at least sometimes. And 1 in 4 feels that their social life and relationships have gotten worse over the past year.
Those most worried about themselves or a loved one being infected by COVID-19 are more likely to practice social distancing measures like avoiding travel, staying away from large groups, and wearing a mask, and more often experience feelings of social isolation. These practices may be taking a toll: these people also rate their quality of life, mental and emotional health, and social activities and relationships as worse than those less concerned about the virus.
Vaccination is not providing people with relief. Those who are vaccinated are more worried about infection from the virus, are more likely to practice social distancing, and are more likely to describe their mental health as worse than last year compared to those who are not vaccinated.
To cope with isolation, older adults are using video chat and social media more often since the beginning of the pandemic as the frequency of activities like visiting with friends and family in person, doing volunteer work, attending religious services, and talking with neighbors have declined. And despite struggles with mental health and isolation, more report that their use of mental health services has declined (34%) than increased (6%).
In addition to the increasing use of technology to socialize, more older adults are using video chat, email, and other technology to receive health care remotely. Sixty-three percent have used telehealth at some point during the pandemic, up from 56% who had used it as of March 2021. Fifty-one percent users expect to continue using it once the pandemic is over, too.
Still, adults age 50 and older are more optimistic than pessimistic that they will be able to fully return to their pre-pandemic activities in the next year, though 17% have already done so.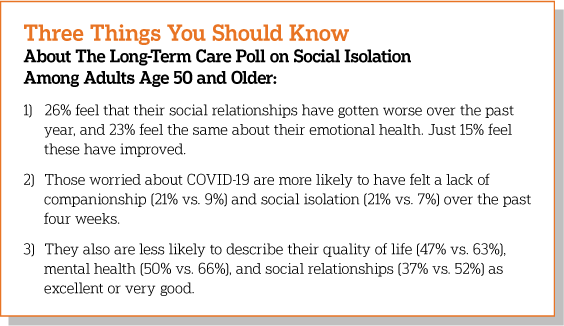 The AP-NORC Center conducted this study with funding from The SCAN Foundation. The survey includes 1,015 interviews with a nationally representative sample of adults age 50 and older living in America using the Foresight 50+ Panel, the probability-based panel of adults age 50 and older of NORC at the University of Chicago. Interviews were conducted between August 20 and 23, 2021, via web and phone in English. The margin of sampling error is +/- 4.1 percentage points.
Suggested Citation: The AP-NORC Center for Public Affairs Research. (September, 2021). "Long-Term Care in America: Coronavirus Worries and Social Isolation among Older Adults" [https://www.longtermcarepoll.org/coronavirus-worries-and-social-isolation-among-older-adults]