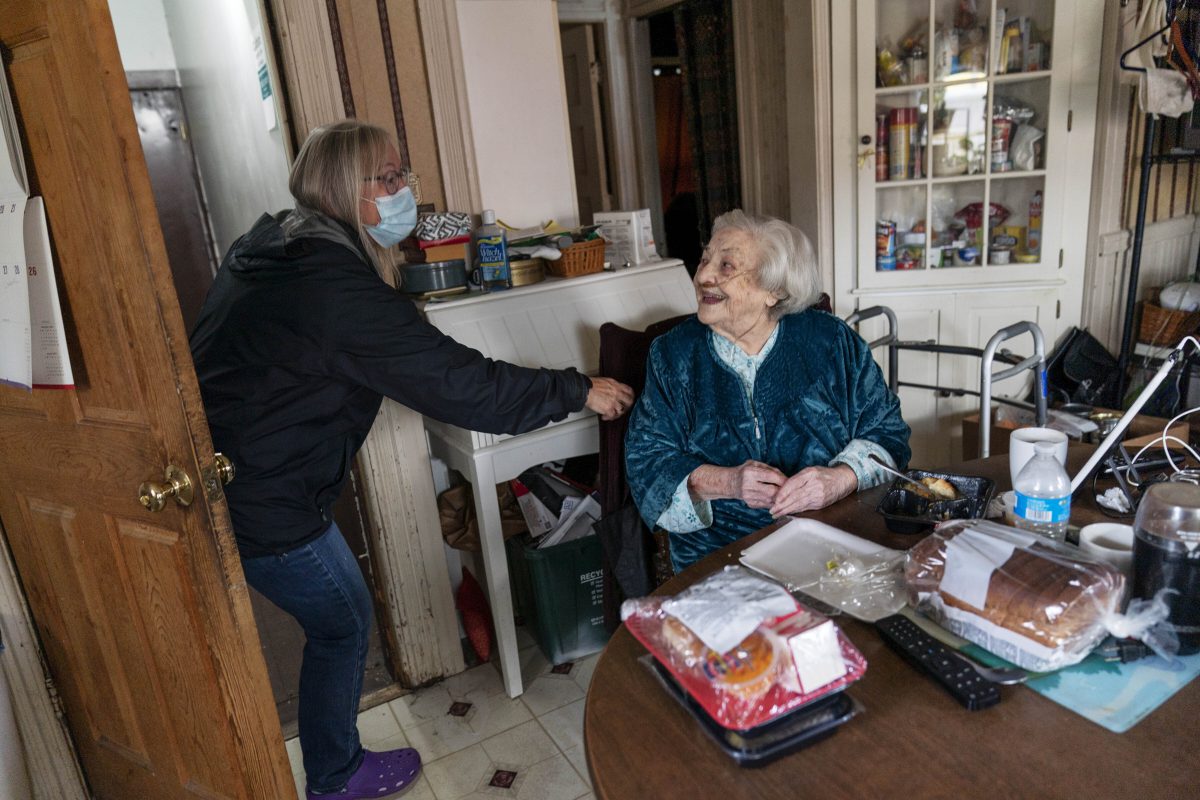 July 28, 2021
Overall, more people think their local area is doing a good job than a poor job meeting the needs of older adults when it comes to many services, including health care, healthy food and nutrition, social activities, transportation, and in-home supports, according to a new study from The Associated Press-NORC Center for Public Affairs Research. Crucially, however, it finds that non-white adults and those in lower-income households hold more negative evaluations of how well their community provides many of these services.
An overwhelming majority of adults in America would prefer to receive any ongoing living assistance they may need at home or with a loved one.  This study asked the public to evaluate their local area on many aspects of what makes a community capable of supporting adults aging at home. It investigates which groups have greater access to these types of support, finding key differences by age, race and ethnicity, income, and urbanicity. It also explores the impact of the COVID-19 pandemic on these supports and evaluates differences in which groups have recovered more than others.
Looking specifically at health care services, more than half of all adults think their local area does a good job providing access to pharmacies, primary care doctors, urgent care, and dental and vision care for older adults. But, non-white people are less likely than white people to think their area does a good job.
Much of the public, though, expresses uncertainty about how well their area is meeting the needs of their community's older adults. In particular, there is a great deal of uncertainty around the availability of health care services like mental health supports and home health aides. Uncertainty about the availability of these and other health care services is especially high among those age 18-59, and while this group might not yet need assistance related to aging, many of these adults will find themselves providing care to an aging loved one in the coming years.
Help from trusted personal networks is also critical to aging at home, and most adults report having people outside their household whom they can rely on for help when they need it, like when they are sick, for emotional support, or for other minor emergencies. However, those with lower incomes are less likely to have a large group of trusted people to turn to outside their home.
The COVID-19 pandemic disrupted many aspects of society and continues to do so. During the current phase of the pandemic, just 53% describe their local area as mostly or completely recovered, and even fewer think places of worship, businesses, or civic organizations specifically have recovered. Non-white adults, those with lower incomes, and those living in urban areas describe lower levels of recovery in their local area. Coupled with poorer access to health care and smaller trusted networks, the study underscores the greater difficulties these groups face aging at home.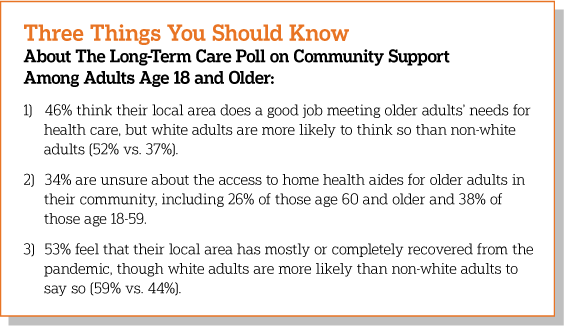 The AP-NORC Center conducted this study with funding from The SCAN Foundation. The survey includes 1,071 interviews with a nationally representative sample of adults living in America using the AmeriSpeak Panel®, the probability-based panel of NORC at the University of Chicago. Interviews were conducted between June 10-14, 2021, via web and phone in English. The margin of sampling error is +/- 4.2 percentage points.
Suggested Citation: The AP-NORC Center for Public Affairs Research. (July, 2021). "Long-Term Care in America: How well can communities support aging at home?" [www.longtermcarepoll.org/project/long-term-care-in-america-how-well-can-communities-support-aging-at-home]